Upcoming Events @ RBS Asia Pacific

Past Events

Rutgers Open House: Financial Statement Analysis
Date: 11 July, 2017 @ 7pm
Attend the Open House and preview the in-class experience of the Rutgers EMBA, while benefitting from a stand-alone lecture that will provide insights in Financial Statement Analysis. Prof
Suresh Govindaraj
is known in Rutgers as the Grandmaster of Forensic Accounting. Prof Govindaraj teaches Financial Statement Analysis in the Singapore EMBA program. The course now includes a module on Forensic Accounting. Suresh has also been a faculty member at the Stern School of Business, New York University, Kellogg Graduate School of Management, Northwestern University and the Graduate School of Business, Columbia University. 
Come interact with our professors and students and determine if studying with an interesting and diverse group of highly motivated professionals is for you!
READ MORE & REGISTER… 
Coaching for Leadership Excellence Workshop with Rutgers
1-2 June, 2017 & 25 August, 2017 **REGISTRATIONS CLOSED
The Workshop in Coaching for Leadership Excellence is designed for new and mature leaders who wish to expand their leadership style to inspire positive change in the workplace, enabling team members to grow by embedding coaching in your daily leadership.
Everyday situations can be ideal times for the savvy manager to slip into the coaching role. A cab ride back from a sales call might be the time to ask insightful questions and share observations about how the call went and what insights could be gained from the experience. A moment of complaint could be used to guide an employee along his or her own path to a higher level of performance. Are you seizing these coachable moments? Would you like to learn how?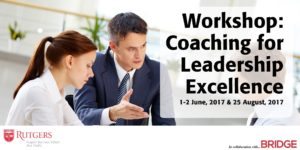 SEE WORKSHOP DETAILS…
Rutgers Mini-MBA™: Supply Chain In A Digitized Network
5-Day Immersion Program, 22-26 May, 2017
The
Mini-MBA™: Supply Chain in a Digitized Network
is designed for experienced and emerging Supply Chain Leaders proactively seeking to understand the massive shift and impact digital innovations and technology will have on the Supply Chain industry. Every industry is ripe for digital disruption, and supply chain management is no exception. To maximize supply chain effectiveness, progressive companies and leaders must reexamine their current business models and integrate essential technological capabilities that enable high-performing teams to proactively stay ahead of the competition.
SEE PAST EVENT DETAILS…
Rutgers Personal Development Series - Personal Resourcefulness
Date: 23rd May, 2017 @ 7:30pm
We now live in a very interesting time. Change is occurring at an unprecedented pace. Disruption is the new norm. The capacity to cope with uncertainty, complexity, and ambiguity becomes ever more pressing. And work has gotten more demanding and challenging. How do you cope effectively with the rising and competing demands at work? How do stay at your best in the face of the challenges in your personal and professional life? 
Would you like to be able to be emotionally calm and centred in turbulent times so as to respond effectively and get the results you desire?

READ MORE & REGISTER…
Rutgers Open House: Business Statistics
Date: 18 May, 2017 @ 7pm
Business Statistics introduces the use of statistical methods and probability in the analysis and modelling of business problems. Cutting-edge software applications coupled with a strong focus on the interpretation of computational results, yield powerful applicability to real-world decision-making. Examples are drawn from such settings as supply chain management, pharmaceuticals, health care, market research, quality control, and production.
READ MORE & REGISTER… 
Rutgers Personal Development Series - Turn your Fear into F.I.R.E.!
Date: 19th April, 2017 @ 7pm
By the end of the session, you will be equipped with practical tools and strategies to enable you to address your fears in a practical way, resulting in sharpened leadership capabilities and enabling you to deal with challenges ahead. When you apply these tools, you will immediately see positive changes in your life. You will become more confident, influential and effective as a leader. As a result, you will be ready for fast tracking your career and achieving your most ambitious goals faster than expected.
Organizational Behavior Open House & Masterclass
Date: 28th March, 2017 @ 7pm
Organizational Behavior explores approaches to analyzing organizations and understanding the role of leaders in the effective functioning of organizations. Topics include negotiation skills, motivation, managing change, ethics in business, managing diversity, team decision making, and leadership. Through class discussions, case analyses, simulations, and projects, students learn critical managerial skills.
Rutgers Personal Development Series - Personal Branding
Date: 20th March, 2017 @ 7pm
Be prepared to be empowered, inspired and motivated to learn how you can harness social media to intelligently build your dream career, as well as to take advantage of the content marketing opportunities we all have today.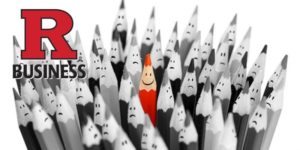 Managing Strategic Transformation Open House & Masterclass
Date: 7th March, 2017 @ 7pm
To be successful in today's complex business environment, leaders need to have: the critical thinking skills to assess and determine how to address different organizational challenges; an understanding of organizational change processes in leading and managing strategic transformations; and the capability to effectively influence people to embrace those changes and meet organizational goals. This course will explore approaches for: planning and managing strategic transformations in the total enterprise, including leadership, processes, structures and culture; exploring how forms of organizing change are linked to various competitive strategies and to performance; and building skills for designing, implementing, and managing strategic transformations.
Global Leadership Masterclass
Date: 23rd February, 2017 @ 7pm
Global Leadership examines the dynamics of leadership, teams and negotiations. Through intensive case discussions, role-plays, and the application of the material to their professional lives, students will signi cantly expand their skill repertoire.
READ MORE…
Weblife & Management Decision Masterclass
Date: 7th February, 2017 @ 7pm
Weblife & Management Decision educates the student about some essential aspects of this new environment in a participative, self-learning effort. Participants will be challenged to: identify the core features of the
new environment, understand better human behavior in the virtual era, come up with the measurement methods to monitor, understand, intervene in the new environment, propose new ventures and business models, formalize key business decisions and parameters for their formalization and real time execution, and think about the issues of sustainability and ethics in the virtual era.
READ MORE…
Digital Marketing Strategy Workshop
Date:  24th January, 2017, @ 4pm
This workshop will emphasise the importance of digital in reaching consumers in the region, and identifies the necessary elements that must be incorporated to ensure brands and businesses do not lose out against competitors embracing digital strategies.
Executive Leadership Masterclass & Open House
Date: 17th January, 2017, 7pm
The Limitless Leadership, Personal Power and High Impact Executive Presentation Skills: A Winning Combination for Today's New Global Leader course provides strategies and poignant methods for leading effectively during these tumultuous times.
[EVENT CLOSED & COMPLETED – Check out our Facebook Page for photos and updates]
TESTIMONIAL
"Rutgers had taken Executive adult learning to an enlightenment level. The program was very well structured and does not overload you with academic information. Every course essence was achieved via self-realization by professional professors leading us with intriguing scenarios and discussions. Allowing us time to digest concepts, and reapplying on real time events happening around the world."
Peter Chiong, MBA
Logistics and Operations Manager
Harley Davidson Asia Pacific
Rutgers
Executive MBA Program
, Class of 2016 Rutgers
Executive MBA Program
,
Class of 2016