Upcoming Events @ RBS Asia Pacific

Rutgers Personal Development Series - Turn your Fear into F.I.R.E.!
Date: 19th April, 2017 @ 7pm
By the end of the session, you will be equipped with practical tools and strategies to enable you to address your fears in a practical way, resulting in sharpened leadership capabilities and enabling you to deal with challenges ahead. When you apply these tools, you will immediately see positive changes in your life. You will become more confident, influential and effective as a leader. As a result, you will be ready for fast tracking your career and achieving your most ambitious goals faster than expected.
READ MORE & REGISTER…
Organizational Behavior Open House & Masterclass
Date: 28th March, 2017 @ 7pm
Organizational Behavior explores approaches to analyzing organizations and understanding the role of leaders in the effective functioning of organizations. Topics include negotiation skills, motivation, managing change, ethics in business, managing diversity, team decision making, and leadership. Through class discussions, case analyses, simulations, and projects, students learn critical managerial skills.
READ MORE & REGISTER…
Rutgers Personal Development Series - Personal Branding
Date: 20th March, 2017 @ 7pm
Be prepared to be empowered, inspired and motivated to learn how you can harness social media to intelligently build your dream career, as well as to take advantage of the content marketing opportunities we all have today.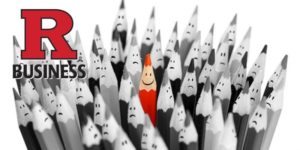 Managing Strategic Transformation Open House & Masterclass
Date: 7th March, 2017 @ 7pm
To be successful in today's complex business environment, leaders need to have: the critical thinking skills to assess and determine how to address different organizational challenges; an understanding of organizational change processes in leading and managing strategic transformations; and the capability to effectively influence people to embrace those changes and meet organizational goals. This course will explore approaches for: planning and managing strategic transformations in the total enterprise, including leadership, processes, structures and culture; exploring how forms of organizing change are linked to various competitive strategies and to performance; and building skills for designing, implementing, and managing strategic transformations.
Global Leadership Masterclass
Date: 23rd February, 2017 @ 7pm
Global Leadership examines the dynamics of leadership, teams and negotiations. Through intensive case discussions, role-plays, and the application of the material to their professional lives, students will signi cantly expand their skill repertoire.
READ MORE…
Weblife & Management Decision Masterclass
Date: 7th February, 2017 @ 7pm
Weblife & Management Decision educates the student about some essential aspects of this new environment in a participative, self-learning effort. Participants will be challenged to: identify the core features of the
new environment, understand better human behavior in the virtual era, come up with the measurement methods to monitor, understand, intervene in the new environment, propose new ventures and business models, formalize key business decisions and parameters for their formalization and real time execution, and think about the issues of sustainability and ethics in the virtual era.
READ MORE…
Digital Marketing Strategy Workshop
Date:  24th January, 2017, @ 4pm
This workshop will emphasise the importance of digital in reaching consumers in the region, and identifies the necessary elements that must be incorporated to ensure brands and businesses do not lose out against competitors embracing digital strategies.
Executive Leadership Masterclass & Open House
Date: 17th January, 2017, 7pm
The Limitless Leadership, Personal Power and High Impact Executive Presentation Skills: A Winning Combination for Today's New Global Leader course provides strategies and poignant methods for leading effectively during these tumultuous times.
[EVENT CLOSED & COMPLETED – Check out our Facebook Page for photos and updates]
LEARN MORE…
TESTIMONIAL
"Rutgers EMBA was the right course for me as I was looking for a course where I could learn from people with diverse backgrounds. The course was a great mix of structured learning as well as real-life cases. The final capstone week was where I could put all the learning together to apply to Business Strategy as well as Corporate Strategy. I believe the course helped me to get a 360 perspective and an executive mindset that are tremendously critical for me to advance in my career."
Jeong SoYoung, MBA
Regional Product Manager
Roche Diagnostics Singapore
Rutgers
Executive MBA Program
,
Class of 2016